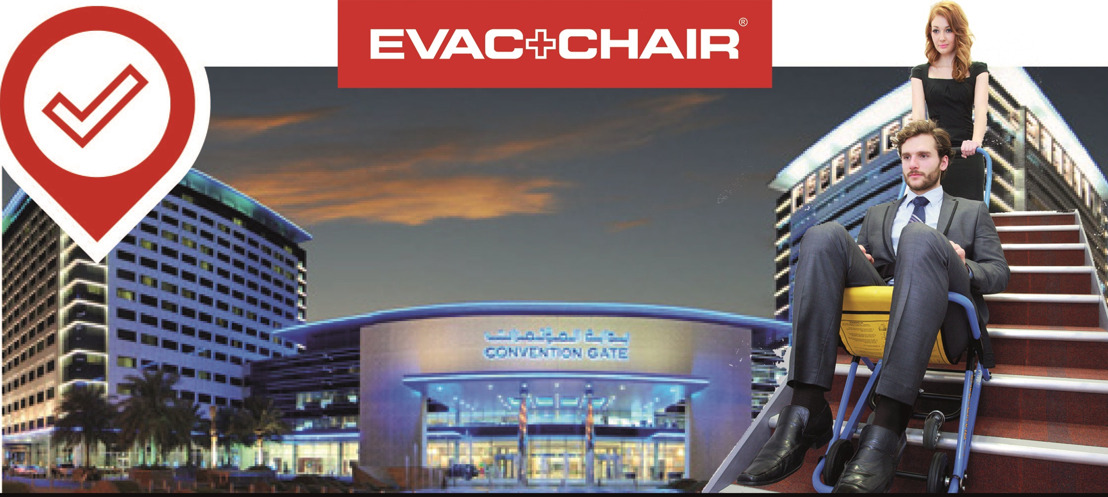 SHINING A LIGHT ON BEST PRACTICE EMERGENCY EVACUATION – EVAC+CHAIR AT FM EXPO 2019
03 September 2019
Evac+Chair will be focusing on the importance of inclusivity in emergency evacuation procedures when exhibiting its extensive range of evacuation chairs at FM Expo, 17-19 September, Dubai World Trade Centre.
The changing nature of risk
The nature of risk is changing. As we build taller and more accessible buildings, more careful planning and preparation is needed to effectively prioritise the safety of every occupant. Typically, multi-storey buildings are not designed for rapid, mass exit which can often result in bottlenecks on narrow stairwells.
The Middle East in particular is known for its extremely tall buildings, with Dubai being home to the tallest building in the world, the Burj Khalifa. Reaching 2,717ft, the 163-floor building houses thousands of residential homes, nine hotels and a shopping mall[i]
Another of Dubai's tallest buildings – formerly the tallest residential building in the world – is the Marina Torch which comprises 86 floors. In 2017, the Marina Torch experienced a catastrophic fire which prompted the introduction of mandatory evacuation drills across Dubai[ii] to ensure building occupants were better prepared for emergencies. This type of training is crucial, ensuring every responsible person within a building understands their role in an emergency.
On 18 September at 1:30pm in the Theatre of Inspiration, Evac+Chair International Middle East manager, Gary Hicks will be discussing the fundamental aspects of planning, testing and training when developing and implementing effective evacuation procedures. He will also be outlining the critical areas when planning to keep every occupant safe, whether it be in the event of a fire, security or environmental threat.
The Evac+Chair team will also be demonstrating its extensive range of evacuation solutions which are designed to safely and easily transport occupants with mobility impairments down flights of stairs in an emergency situation. By testing the evacuation chairs out for themselves, visitors can experience just how easy they are to use, whilst understanding the vital role they play in an emergency situation.
Best practice evacuation
Best practice evacuation is about moving beyond a 'tick box' response to risk. To be effective, evacuation procedures should be an integral part of your building or organisation's culture – accompanied by transparent communication and frequent training. Every responsible person needs to understand their roles and responsibilities in an emergency to enable a swift response in an emergency.
Evac+Chair International has been developing and manufacturing its world-leading Evac+Chair in the UK for over 30 years.
Are you following best practice in emergency evacuation? Why not speak with the Evac+Chair team at FM Expo 2019 on stand F230, visit www.evacchair.ae or call +971 4430 7722.

Elisha Dessurne Public Relations Executive, dmg events