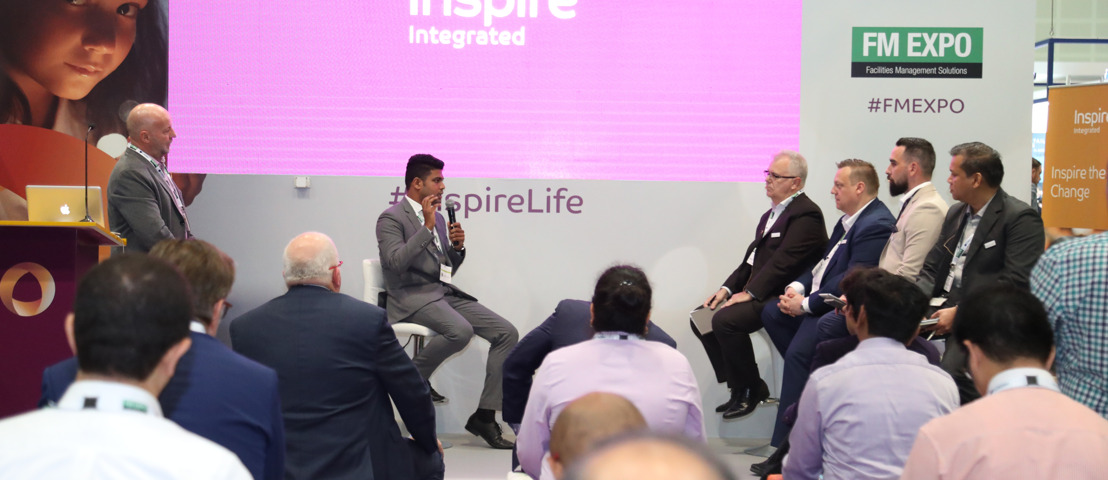 HIGHLIGHTS: FM EXPO 2019
A selection of images and statements from the Middle East's Leading Facilities Management Event.
Falcons' Den feature at the 'Theatre of Inspiration'
A pivotal element of the new 'Theatre of Inspiration' at FM EXPO, and the moment when Inspire Integrated Solutions made clear their stance on driving forward the local industry, the 'Falcon's Den' incentive ran in a bid to reward the most innovative solution displayed.
Winner of the set, TechnoPurple, presented their award winning Task Tracking App - EFFY - which gives real-time visibility of each FM job.
Stephen Thomas, Managing Director at Inspire Integrated said:
"I think Falcons' Den was a very innovative concept mainly because of the Q&A session that took place between the Inspire panel of judges and the companies pitching their product - it really allowed the audience to take a deep dive into solutions on the market right now.
"As for TechnoPurple, there are a lot of tools to monitor staff coming to the site, but once they are actually at the property there is not a lot of instant information available. Definitely I can see that it is a product we would love to use in the future."
Complimentary Education at FM EXPO
FM Forum and Imdaad Work Series
Visitors to FM EXPO 2019 are benefiting from the insightful education offering in association with Headline FM Forum Sponsor, Tafawuq Facility Management. Featuring over 20 free to attend and CPD certified workshops, the education agenda covers topics from Smart City Management to Professional Standards and Qualification.
Manoj Kurup, Senior Executive Director of TBOAM Facilities Management, and educational session visitor said:
"The show is fantastic, we are getting to learn about new things to adapt in the FM industry. These educational sessions are very beneficial for FM Expo visitors to learn new things as I am running an FM Company, it is always good to attend educational sessions to learn new things and to adapt into my business."
A Business Networking Event
FM EXPO 2019 plays host to more than 50 exhibiting companies this year. Major participating brands like Imdaad, Ejadah, Boecker, eFM, FSI Middle East, ZOLL, Evac+Chair and Dussmann are showcasing the latest industry products and solutions. The event offering covers Technology, Specialised Support Services, Cleaning Services, Waste and Recycling, and Energy Management.
Avinash Jha, Business Development Manager at exhibiting company Dussman Gulf LLC has said:
"FM EXPO is what we look forward to. We recently launched the machine we are showcasing so we are glad to present it to the UAE industry this week. Review of the product has been fantastic, interest from people has been fantastic, FM companies have shown a lot of interest. FM Expo is always like a homecoming, we see a lot of familiar faces from the FM Industry, a couple of friends who come by and say hi and we see all of them around which is great."
FM EXPO 2019 will continue to run on Thursday 19th 2019 with the Waste & Recycling Summit as the main feature. Take an early end of week and head down to Dubai World Trade Centre to learn the latest in Dubai's waste management policy.
To learn more visit: www.fm-expo.com  
For media inquiry contact:

Elisha Dessurne Public Relations Executive, dmg events